Maryland Crab Cakes with lump crab and Old Bay seasoning are a wonderful seafood dinner.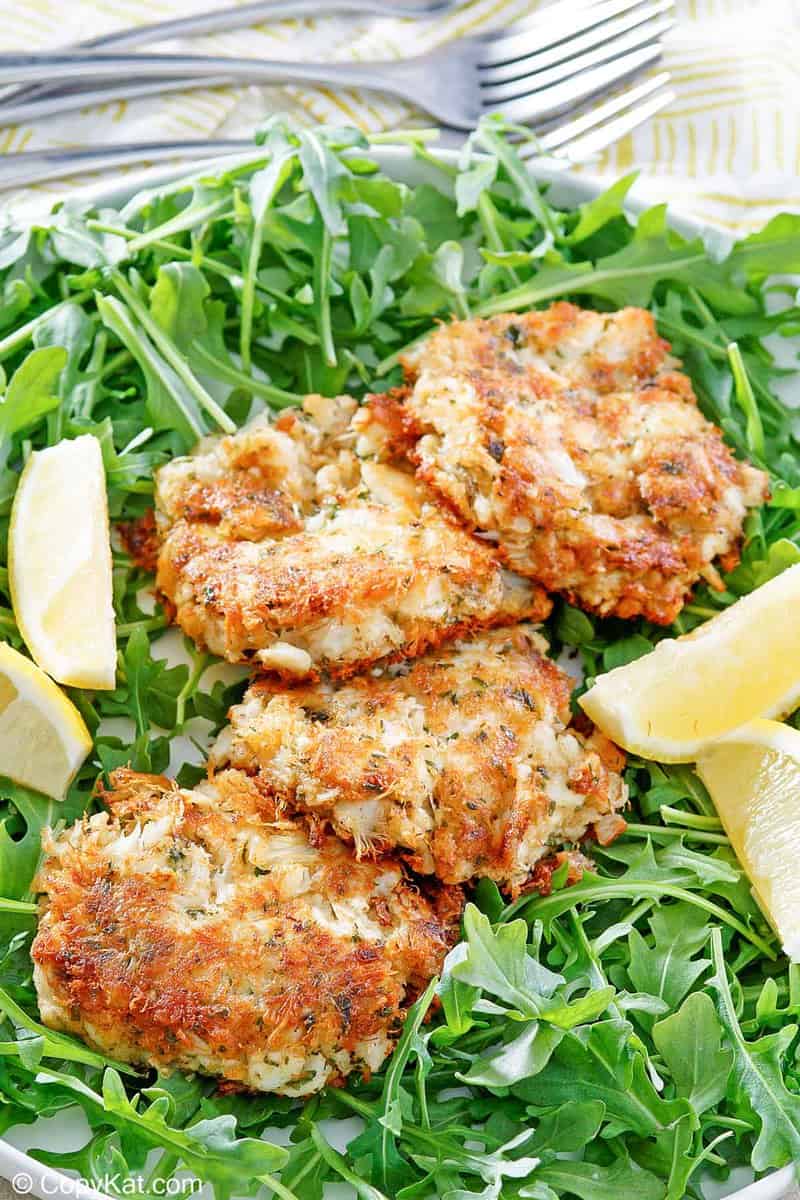 Drop by any of the dozens of bayside restaurants in Maryland during crabbing season, and you're going to see crab cakes front and center on the menu. Crab cakes are popular, not just because they're delicious, but because they're fancy enough to serve as an appetizer at a dinner party or totally appropriate for munching as a snack while fishing off the pier. But the problem is when you order crab cakes in most restaurants, you get only a tiny bit of crab meat and a lot of filler. This recipe for easy crab cakes highlights the crab cake's best part, the crab with just enough filler to keep the patties from falling apart.
What's Special About Maryland-style Crab Cake?
You can get an ordinary crab cake anywhere. But in the area surrounding the Chesapeake Bay, Maryland-style crab cakes rule. So, what exactly is the difference? Plenty.
First off, crab cakes in Maryland have to be made with meat from the Chesapeake Bay blue crabs. Using any other crab meat might make a tasty crab cake, but it is definitely not an authentic Maryland crab cake. Blue crab meat is mildly sweet and goes incredibly well with the second must-have for crab cakes in Maryland, Old Bay Seasoning.
Old Bat Seasoning is a mixture of black pepper, celery salt, crushed red pepper flakes, and plenty of paprika. The spice mixture has become such an essential part of the local seafood scene that some folks even refer to Maryland-style crab cakes as "Old Bay Crab Cakes."
Unlike other types of crab cakes, the ones they serve in Maryland are not fried. Instead, the preferred cooking method is broiling. Broiling keeps the cakes light and slightly charred.
Where Can I Get Real Maryland Blue Crab Meat to Make Homemade Crab Cakes?
While you can certainly go through the trouble of buying, steaming, and picking all the meat from whole blue crabs, it is much easier and entirely acceptable to purchase prepackaged fresh crab meat. The key here is to make sure you are getting fresh crab, and unless you live close to the Chesapeake Bay, the only way to do that is by shopping online.
Many websites can ship blue crab meat overnight directly to your door, but it isn't cheap. So, if you are going to invest in quality blue crab meat, make sure you are buying from a reputable seller and know what you are buying.
There are three types of crab meat that you can use for crab cakes. The most expensive is the jumbo lump which contains large chunks of meat from the body. Unless you are trying to impress a crab cake connoisseur, choose the cheaper lump crab meat. Lump crab meat is also from the body of the crab, but the pieces are a little smaller. An even more affordable option is backfin crab meat, but it's slightly less desirable because of its smaller size.
Tips for Making and Serving Maryland Crab Cakes
Don't worry if the crab cakes are a bit crumbly. The filler helps stick the crab cake together, and this recipe calls for as little filler as possible to let the crab shine.
Serve with a sauce or two. If your crab cakes are a little draw, a sauce can help. A natural choice is tartar sauce, but you can try making a remoulade or aioli, basically two versions of dressed-up mayonnaise, if you want to try something different.
See what we are up to on Instagram!
Ingredients
Here's a list of what you need:
Lump crabmeat
Mayonnaise
Old Bay seasoning
Fresh parsley
Dijon mustard
Water
Saltine crackers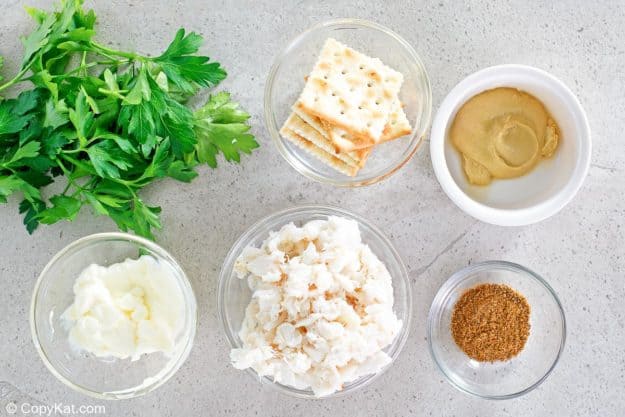 How to Make Maryland Crab Cakes
Pick the crab meat over to remove excess shells and cartilage.
Place mayonnaise, Old Bay seasoning, parsley, mustard, and water in a bowl and mix until smooth.
Add the mayonnaise mixture to the crab meat and gently mix to not break up crab meat lumps.

Crush the saltines into crumbs and gently stir into the crab mixture.
Form into patties.

Pan-fry or broil the cakes until golden brown.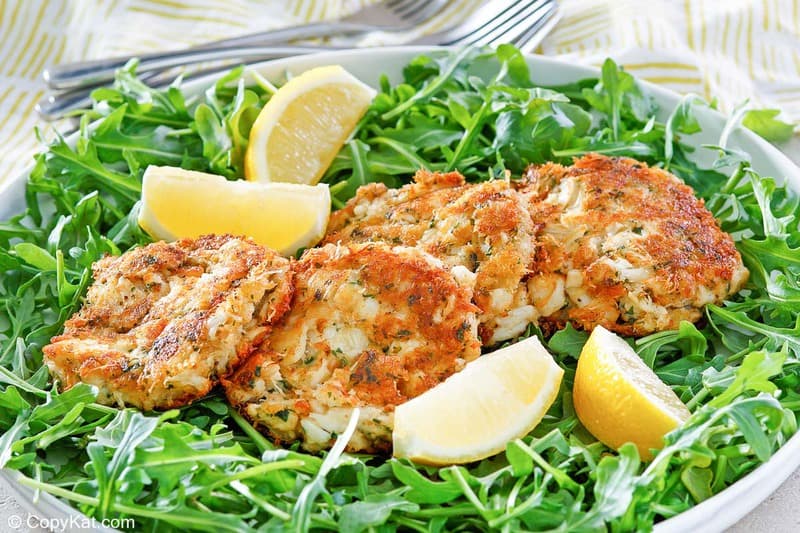 Love Crab? Try these recipes!
Favorite Shellfish Recipes
Check out more of my easy seafood recipes and the best recipes for dinner here on CopyKat!
This was originally posted on the blog as the Old Ebbitt Grill Crab cakes. The Old Ebbitt Grill is located in Washington D.C.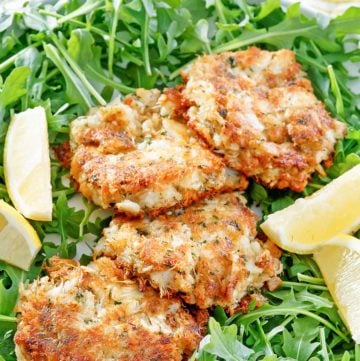 Maryland Crab Cakes
Maryland style crab cakes are well known for not having any filler and plenty of flavor. This is a copycat recipe of the Old Ebbitt Grill is located in Washington D.C.
Print
Pin
Rate
Add to Collection Go to Collections
Servings: 4
Calories: 236kcal
Ingredients
1

pound

lump crabmeat

1/3

cup

mayonnaise

2

teaspoons

Old Bay seasoning

1

tablespoon

chopped parsley

1

tablespoon

Dijon mustard

1

tablespoon

water

4

Saltine crackers
Instructions
Pick the crab meat over to remove any shells or cartilage.

Combine the mayonnaise, Old Bay seasoning, parsley, mustard, and water and mix until smooth.

Add the mayonnaise mixture to the crab meat and mix, being careful not to break up the lumps of crab meat.

With your hands, crush the saltines into crumbs and carefully mix them into the crab mixture.

Form crab mixture into patties.

Pan-fry or broil the crab cakes until golden brown.
Nutrition
Calories: 236kcal | Carbohydrates: 2g | Protein: 21g | Fat: 15g | Saturated Fat: 2g | Cholesterol: 55mg | Sodium: 1119mg | Potassium: 262mg | Fiber: 1g | Sugar: 0g | Vitamin A: 155IU | Vitamin C: 9.2mg | Calcium: 92mg | Iron: 1.7mg